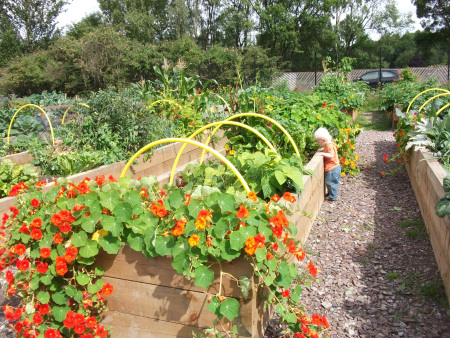 Bothwell Community Garden was set up by the Organic Growers of Bothwell and opened to members in May 2010. We are a diverse group of families, individuals and community groups who are passionate about organic gardening, vermiculture, biodiversity and reducing our carbon footprint whilst improving our health and quality of life.
With more than 50 raised beds (including beds adapted for use by young children and those with limited mobility), two polytunnels, an orchard, soft-fruit area and several areas dedicated to wildlife; the garden is a place for members to grow their own produce and come together to socialise and share skills and interests.
The garden has proved to be extremely successful and popular with the local community, and there is currently a long waiting list for raised beds.
We are always looking for volunteers to help keep our garden looking pristine. Supervised sessions are on Wednesdays and Sundays from 2pm until 3pm followed by tea/coffee/juice, biscuits and a good blether. If you would like to join our volunteer session either contact us or come to the garden and rattle the gate. You can be assured of a warm welcome.
For further information on the garden, including how to apply for a raised bed, how to become a 'Friend Of The Garden', volunteering opportunities and press enquiries; please contact us by email at: